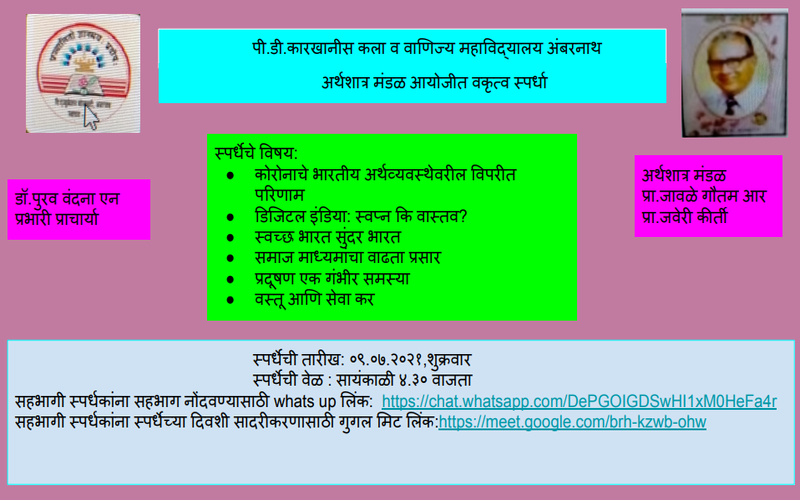 Organization of Elocution Competition by the Economic Association
The Education Society's,
P. D. Karkhanis College of Arts & Commerce, Ambarnath
Date: 09.07.2021, Friday
Timing: 4.30 p.m.
Topics of the competition:
Adverse effects of Covid-19 on Indian economy
Digital India: Dream or Reality?
Clean India beautiful India
Increasing use of social media
Pollution as a serious problem
Goods & Services tax
Rules of the competition:
Every participant will do presentation on anyone topic of the above topics for 5 Minutes.
Language style-10 Marks, Intent-10 Marks,& 10 marks for presentation, in this way, competition will be of total 30 marks.
Among all the participants, the names of the students getting first, second, third & consolation prizes will be announced.
The certificate of participation will be given to all the participants.
The decision of the judges will be final.
All the students wishing to participate in the competition have to register till 08.07.2021 by clicking the following what's up group link and with joining what's up group made for the competition. Further all the information regarding competition will be given in the what's up group to the participants Click Here
Economic Association Prof.Purav Vandana N.
Prof.Jawale G.R.-Chairman Incharge Principal
Prof.javeri Kirti-Member